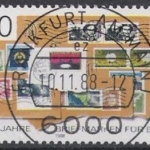 Loturi trimise:
4
Loturi primite:
4
Loturi în progres:
0
Stele primite:
5.00
Ţara:
Germania
Limbi:
German, English, a bit French
Membru din:
09 Iunie 2019
Ultima activitate:
05 August 2019
Hello,

I'm a long time stamp collector, collecting world wide, with a focus on Germany.

I will be happy to receive all kind of stamps, but if you can, please consider my preferences:

I would like to get mainly commemoratives, but newer (last 10 years) definitives can be also interesting.
My preferred areas are Asia and Africa, Eastern Europe after 1990, or in general more recent commemoratives wordwide. Regarding topics, I am particularly interested in stamps on science, or historical subjects, or showing political propaganda.
I prefer, in this order, postally used stamps, mint stamps, and, least, CTO stamps. As I already have very much of Germany, please avoid sending German stamps (except very recent ones).